Modern 3D printers have never been easier to use! But if you're starting out, I don't want you to just grab any random printer off the (MicroCenter) shelf. When selecting your first 3D printer you need to consider a few things:
What's your budget?
What do you want to make?
Where are you going to set it up?
3D Printing Doesn't have to Cost a Lot of Money
I'll always recommend a less expensive printer for people who are curious about 3D printing and want to try out the hobby. Yes, there are EXCELLENT and easy to use machines that cost well over a $1000 — but if it's just going to collect dust after you print a couple dragons, it's a waste of money.
What about those $99 3D printer deals I see advertised at MicroCenter? Those are usually for an older model Ender 3 (there's a lot of Ender 3s) which require more assembly and don't have all the features of a new machine. As they say, you get what you pay for.
What will you 3D Print?
If you're wanting to make toys, decorative models and cosplay pieces, you'll only need PLA material. Good news! PLA is pretty cheap and works on any open frame machine, like an Ender 3, Anycubic Kobra, Neptune, Prusa Mini, or Bambu P1P. These are all great machines!
But if you know right away that you'll need sturdy "engineering" grade practical prints, then you'll want an enclosed machine to tackle ABS, ASA or nylon. I'd suggest the Bambu Lab P1S, which I've reviewed over on Tom's Hardware.
Where will You Use Your 3D Printer?
You don't need to dedicate a whole room to 3D printing when you're starting out. If you buy a truly portable machine, like the Creality Ender 2 Pro, you can store your machine in a closet and bring it out to play on the kitchen table when you need it.
I can't fully recommend putting a 3D printer in your bedroom — some machines are pretty loud! But I do have to admit my teenager has our Prusa Mini+ in his room, it's super quiet and small enough to sit on top of his dresser.
Here's my current favorite 3D printers for beginners in 2023.
Disclosure: Some of the links below are affiliate links. This means that, at zero cost to you, I will earn an affiliate commission if you click through the make a purchase.
Creality Ender 3 V3 SE
3D Print Bunny's Safe from the Rain with 3Domsculpts Chibi Totoro.
Budget priced at $200
Medium build sized: 220 x 220 x 250 mm (8.6 x 8.6 x 9.8 inches)
The latest Ender 3 has everything a beginner needs to succeed: perfect auto bed leveling, an easy-to-understand control screen and a flex plate that allows finished models to pop right off.
Creality's line of Ender 3 machines have a reputation for being stripped down budget machines, but the V3 SE puts an end to that. This 3D printer is both affordable and a breeze to use. It's a great choice for beginners because, unlike older Ender 3 models, the V3 SE is simple to build, has deluxe features, and is easy to use with step-by-step instructions right on the screen.
It borrowed advanced auto leveling from the more expensive K1 series and the S1's extremely capable Sprite direct drive. It's faster than previous Enders with a top speed of 250mm/s, and a normal printing speed around 150 mm/s.
It lacks Wi-Fi and can only transfer files with a traditional full size SD card.
Buy the Ender 3 V3 SE on Amazon here.
Prusa Mini+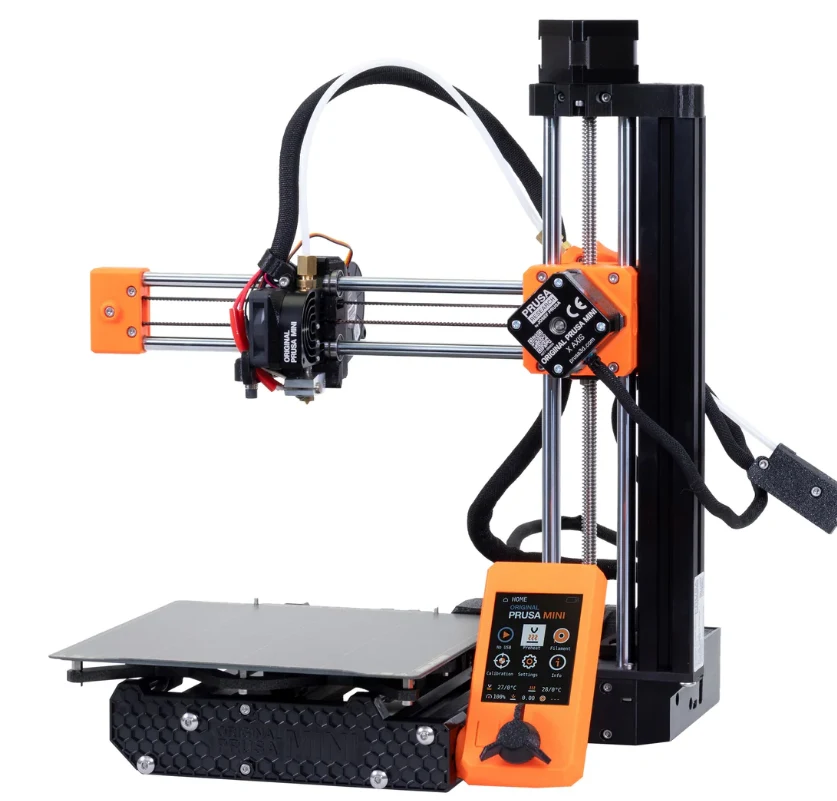 Mid-Range Price at $459 semi-assembled & $429 for a kit
Small build volume: 180 x 180 x 180 mm (7 x 7 x 7 inches)
Tried and true, the Prusa Mini is a compact 3D printer from one of the best manufactures in the business. There's a reason Prusa Research has such a loyal fan base — their printers "just work." Prusa is also known for making upgrades for their machines rather than completely new models. In fact, the Mini was just given new firmware that includes Input Shaping for faster printing.
The Prusa Mini is a cantilever design with a 7-inch build plate and truly portable — especially if you print a handle for it. It has everything you need for easy use: auto bed leveling and an easy to navigate control screen.
You can save a few dollars by purchasing the kit, but it's no small task. If you just want to get printing, a pre-built machine is the way to go.
Bambu Mini (with AMS)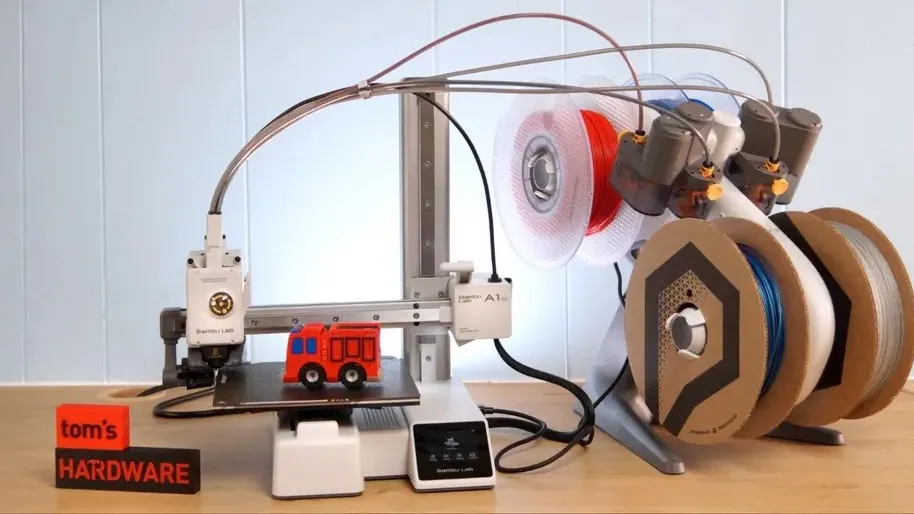 Mid-Range Price at $459 with four color material handler or $299 for a stand-alone printer
Small print volume: 180 x 180 x 180 mm (7 x 7 x 7 inches)
Bambu brings color to the masses with a lower price, smaller 3d Printer packed with amazing speed. The machine is super easy to use with a modern touch screen that's home to a tiny helper to guide you along the way.
It's a fast printer with a top speed of 500mm/s and 10,000 acceleration, though in practice it goes a bit slower, in the 200-300 mm/s range. Still, that's stupid fast.
The main reason for recommending the Bambu Mini is the AMS, which allows you to print in four glorious colors for a fraction of the price of a full sized Bambu — $950 for a P1S color combo.
Shop for a Bambu Mini today!
Neptune 4
Budget priced at $259
Medium build sized: 225 x 225 x 265 mm (8.5 x 8.5 x 10.4 inches)
The Neptune line of 3d printers by Elegoo has long been a favorite of mine for affordable, easy to use machines. The Neptune 3 Pro is still a heck of a deal, but if you want speed, you want the Neptune 4. This one has added Klipper firmware to the package to deliver an extra dose of precision and speed.
It also happens to be ridiculously loud thanks to the extra cooling slapped onto the back of the X axis. But if you don't mind a little noise, you can be printing at top speeds on "normal" sized 8.5 inch build plate for a reasonable price.
Buy a Neptune 4 on Amazon today!
Ender 2 Pro
Budget priced at $175
Small build sized: 165 x 165 x 180 mm (6.5 x 6.5 x 7 inches)
One of my all-time favorite portable printers is the Ender 2 Pro. It's a bit stripped down — you'll have to learn manual leveling — but it packs excellent quality into every inch. It's a cantilever mini with the same hotend as an Ender 3 V2.
The Ender 2 Pro is a great starter printer for families who want to expand their STEM knowledge without breaking the bank. It weighs only 10 pounds and comes with a handle so it can be easily moved from table to closet by weekend hobbyists who lack tons of space for hardware.
It's not as fast as printers coming out this year, but once you master the basics it can be upgraded with Klipper by way of a Rasberry Pi or BigTreeTech Pad 7.
Why not give an Ender 2 Pro to your favorite maker kid today?