You've unboxed your 3D printer, set it up and printed the little cat you found on your SD card, all pre-sliced from the manufacturer. You excitedly post your very first 3d print on Facebook & Twitter.
Now what?
YOU NEED MORE STL FILES!!
There's two options when it comes to keeping your 3D printer busy:
Learn how to design models on a computer.
Find ready made models online.
Not everyone is an artist and there's a steep learning curve to creating your own files. So let's focus on printable 3d files you can find online.
You've unboxed your 3D printer, set it up and printed the little cat you found on your SD card, all pre-sliced from the manufacturer. You excitedly post your very first 3d print on Facebook & Twitter.
Now what?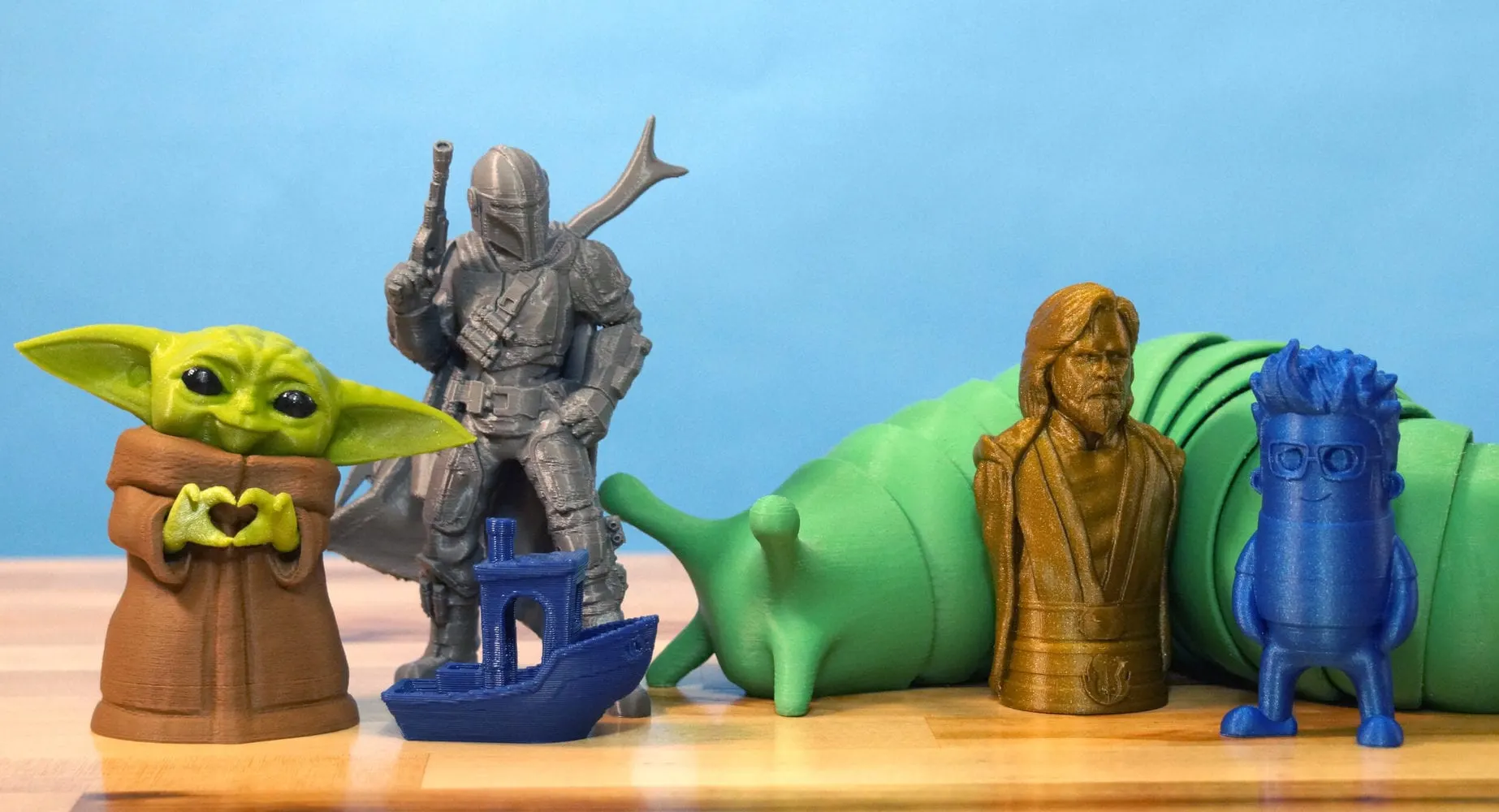 Google
The most obvious method — using a search engine — works fantastic for finding stl files. Try searching for the thing you want AND include "stl" or better "stl file" and you'll find lots of interesting things to print.
I suggest doing an image search to save yourself a few clicks.
It's not perfect. STL also happens to be the nickname/airport code for my hometown of St. Louis, so some searches might just give you things from around here. Trying Googling Cardinal stl and you get anything BUT a 3d printable file.
Still, Google is smarter than the search functions in most file repositories so this basic method might be all you need.
Yeggi
Yeggi is like the Google of 3D printing, it's an index of ONLY 3D printable models. It has over 3 million models in it's library, which is a ton…but not all of them. Still, if you can't find it on Yeggi it may not be worth finding!
Type something into the search bar and it will pull up everything it can find to match your terms. Yeggi shows results in the form of thumbnails. Hover over the thumbnail and it will tell you if the print is free or for sale, and where it found the file. Keep scrolling to the bottom and you'll see the most popular models that match your search.
Now let's talk about file sharing sites! The following websites are places where the files are kept like books in a library. Anyone can upload files they created at these sites to share (or sell) to others.
Thingiverse (?)
Thingiverse is the OG file repository. Ask anyone online where you can get stl files and the automatic response is "Thingiverse!"
BUT Thingiverse is having a reputation problem right now after not responding to a MASSIVE data breach. Check out the details from Maker's Muse here.
Community sets Thingiverse apart from other file sharing sites. Look at any listing, then head to the comment section where people will say if it works, didn't work and what adjustments they made to improve the print.
Thingiverse is FREE to use, as both a creator uploading files and a printer downloading files. When you set up and log into your account you can "like" files, save them to your collection and post photos of your makes.
Because Thingiverse is free to use you'll find all levels of creators using the space–pros, amateur's and 4th graders who want to show off their Tinkercad Minecraft guy. Be wary of any model that only shows a blue computer render — it's very likely the designer didn't bother to test print the file first.
The search engine on Thingiverse is not as robust as Google. You'll only find items using the exact terms that the designer filed it under. For example, I tried to find a small computer to print and nothing was coming up…until I searched for a BARBIE computer.
Thangs
Launched in 2020, Thangs is the new kid on the block. You've probably heard of them because they're sponsoring 3d print Youtubers and actively courting well know designers to get new files in the Thangs website.
Thangs is part storage site and part search engine. When you search for an item on Thangs it will show you files in it's archive as well as files from other sites.
What sets sets Thangs apart is it's quick 3D rendering of models that you can spin and flip on the screen so you can see an object from all sides. If you access Thangs on mobile you can also see the print in Augmented Reality.
Thangs is free to use for both creators and makers. You can like items you find on Thangs and share them with friends.
My Mini Factory
My Mini Factory claims to be even bigger than Thingiverse. You find models here lean heavily toward table top gaming and fantasy but you'll find lots of other awesome things to print here too.
What sets them apart is their community verifies that every file is printable before they are allow to post.
I've found that My Mini Factory has higher quality files–probably because there is a $25 monthly fee to open and run a shop. This is not a place for your kid to drop his Tinkercad creations.
Despite the fees charged to shop owner, you'll still find plenty of free models on the site.
It is free to join the My Mini Factory community as a customer/user which allows you to save files in collections.
Cults3D
Not as big or old as Thingiverse, Cults3D is another 3D model sharing site with a huge archive.
Like Thingiverse, models can be upload by any designer of any skill level. Unlike Thingiverse these models can be offered for free or for sale. Cults charges a 20% fee on all sales.
Cults3D holds contests, awarding cool prizes for the best entries. Browsing through contest entries can often turn up better than average files. They also have hand curated collections like 3D Printed Keychains or Best Files for Magic Tricks. These are fun collections to browse through if you don't know what you want to print next.
PrusaPrinters
Prusa's website is a one stop shop for everything related to 3D printers. You can shop for a new machine, order filament, download a really nice slicer, get troubleshooting tips, helpful blog posts and yes…find stl files.
Relatively speaking, there's not as many files on the Prusa site as some of the other places, but there's still thousands of high quality files. You don't need to own a Prusa printer either — they work on any FDM printer.
Best of all, Prusa's stl files are always free.
The company hosts themed contests every other month and the prizes are Prusa printers and filament. The contest pages are great places to find your next 3D print with winners listed at the top and every entry (sometimes hundreds!) listed below.
Is that all?
Nope. There's actually a few more websites with stl files, but in my opinion they aren't worth your time. Either they have too few files to bother with or have a mix of printable files and 3d files meant for game design.