Roses are the most beautiful flower and a classic way to tell someone "I love you." They're also super pricey around Valentine's Day. If you ever thought about saving money by 3d printing a rose, this post is for you!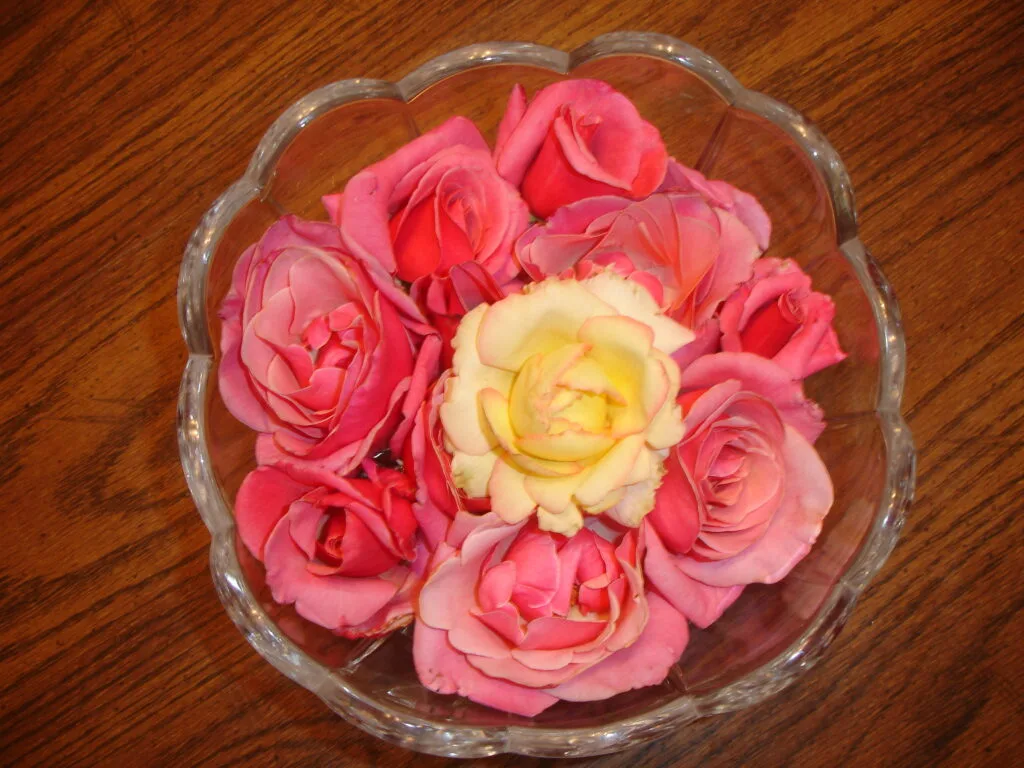 ~This post also contains affiliate links (including links to Amazon) which may reward me in the event of a sale.~
For the same price as a dozen as-good-as-dead flowers my hubs could buy me a roll or two of fabulous glittery red Proto Pasta PLA for my 3D printers. Throw in a bottle of wine and a box of chocolates, and I'm a happy camper this Valentine's Day.
Dare to 3D Print Roses
Not everyone will appreciate a plastic rose, I get that. But what if you wanted to give a rose that — like your love — will never die? Then 3D printing is the way to go.
Great Rose STL Files
I dug through mountains of file sharing sites to find the VERY BEST and totally free 3D printing files for you! Here are five FREE roses that range from pretty decent to pretty darn awesome.
3D Print a Rose That Never Dies
I checked out dozens of files and printed out the best ones on my Creality machines: and Ender 3 Pro and a CR10s.
Photo Credit: stlDenise3D
This rose is the complete package with a flower, stem and leaves. The leaves are printed on their side, so I'd suggest a raft plus a bit of thin support. I printed all three leaves without any trouble.
The flower does NOT need supports which guarantees a good clean print.
Normally this flower would print in 9 hours with .2 layer height at 50mms on my Ender 3 Pro. I cut my time down by reducing the size to 85% (only about a half inch smaller) and cranking the speed to 65mms. The quality is still excellent! The flower printed in a little over 5 hours. I was able to run the stem and leaves on a 2nd printer at the same time -- if you have one printer figure about 10-12 hours to print at a reduced size.
The designer made this in three parts (flower, stem, leaves) that can be assembled with glue and screws. I skipped the hardware and used CA Glue and a piece of filament in the screw holes to keep things aligned.
This is my favorite rose to print -- it runs in Vase Mode so it's superfast and needs no support.
Here's a beautiful stem for your roses that prints in vase mode -- super quick! It also has a nice twisty pattern to it. It will need to be glued on, but can be sized to fit any flat-bottomed rose.
Photo Credit: stlDenise3D
This hefty print is stunning AND time consuming -- it took over 9 hours to print at low quality & 65mms. The rose looks decent even at a .28 layer height, but needs quite a bit of supports that can scar up the bottom of the flower.
The included greenery file didn't work for me -- I printed it twice but the supports were cemented in place both times I tried to print it.
It's definitely worth a try though if you have the patience and a knack for break away supports.
The print has a hole in the bottom for you to place a wire stem to complete the flower.
Photo Credit: stlDenise3D
This is a simple rose that prints pretty quick -- just 2 hours on my Ender using standard layer height and 50mms. You could easily print a dozen in a day or two.
There's no greenery for this one, but there is a hole for a stem you can make from florist wire or a bamboo skewer.
"Printable Rose" is a remix from a truly terrible looking Thingiverse file...if you're daring, check out the OG file and print the stem from there.
Created for the Spiral Rose, this is a not-spiral stem that has thorns for a more realistic look.
Photo Credit: stlDenise3D
This flower looks a bit more real and prints without supports...but has a rough edge. It also takes a good 8 hours to print at standard quality (.2 layer and 50mms).
I did not print the green base and stem that came with it as it looked like it would need way more supports than I wanted to deal with.